Learn how to use TRANSFORMATIVE technologies to hack your physical and mental health for elevated wellbeing, performance & potential
6WC is a 6-week training program, where we get you into better (mental and physical) health with key Transformative Technologies, reviewing and understanding your data supported by experts where you will identify and be able to make changes to your day to day routines elevating your health, wellbeing and performance.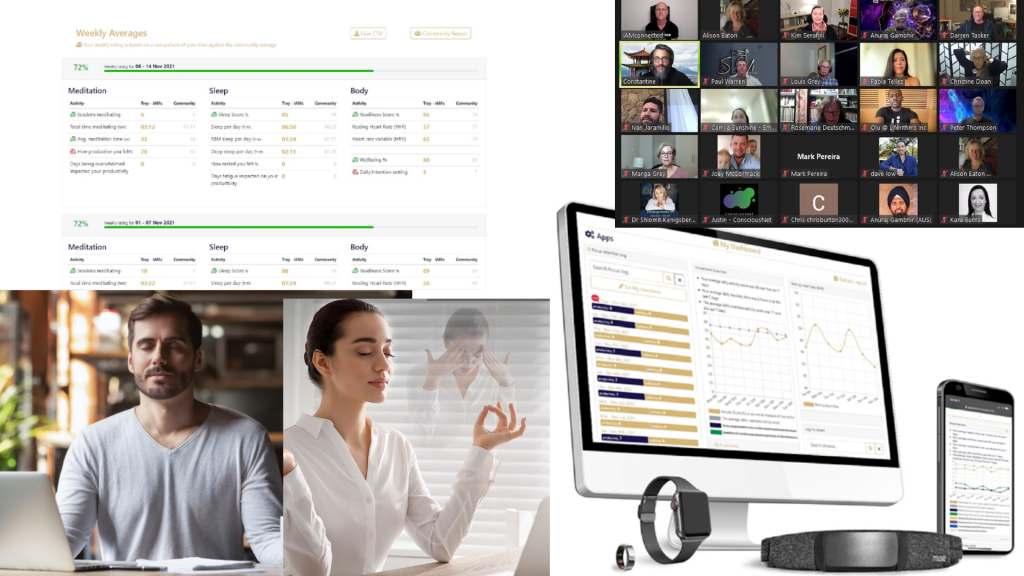 High performers and those working towards high performance. 
Let's be honest we can all be a high performer in one area of our lives, but other areas of our life may be letting us down. Regardless, it all starts by understanding what is happening on the inside. Today, society and modern-day focus does not help us pay attention to our inner workings, until something is broken, even though it forms the critical foundation for how we show up and perform on the outside. 
Using Transformative Technologies we create a closed feedback loop, where your data supports our expert team to objectively understand what is happening for you and support your transformation into better health (mental and physical), wellbeing and performance. 
This program is for anyone who is passionate about self-growth and using the latest technologies (with the support of experts) to become what they can become.
What it helps them achieve
6WC helps support you to get started:
Using Transformative Technologies to create a closed feedback loop, so that you can learn and adapt your behaviours in real time, before situations become chronic

Understanding and optimise sleep patterns

Developing a daily practice of meditation along with other habits, learning to influence your brainwave states for greater flow and wellbeing  

Understand and heal some of the unconscious patterns (blocks, self limiting beliefs), programs running that are holding you back 

Using the data to understand which biotests to prioritise 

Supporting positive habit formation

Connecting to a community of other high performers on their way to realising their potential
This program gives you everything you need to get you started with Transformative Technologies and improve the understanding of your data:
Pre challenge: Is about getting you set up with the technology & understanding the data
Training:

6 x Weekly Training Sessions

Meditation – Weekly training to build a daily practice. You'll learn a zen meditation practice based on 3 core essences (releasing tension, right breathing & observing the mind). You'll learn to build a relationship with the mind, understand your brainwave states (Delta, Theta, Alpha, Beta, and Gamma) and how to access different states for wellbeing and performance

Sleep & Recovery. You'll learn patterns across REM, NREM, total sleep, RHR, HRV and using these to optimise your wellbeing and performance

Pattern recognition. Often the biggest thing holding us back are the unconscious patterns we are stuck in, creating blocks and self limitations. Using the iAMconnected platform and the support of a coach we work with you to indentify what these are and how to move beyond them

Forgiveness. We dive into forgiveness and the profound benefits that forgiveness (of ourselves and others) has on wellbeing, performance and our potential

Beliefs. Our beliefs need to growth with us. They either help us expand or keep us contracted in our current experience. We work with you to move beyond limiting beliefs and integrate beliefs which support your growth.

Habits. What is it that you utlimately want? Are your habits conducive to you having that? What habits do you need break? We'll use the latest in science and technology to support you to develop new habits and positively influence your ability to achive them
During the challenge: Biotesting recommendations will be offered on an individual basis, dependant on what your data presents
Tools:

Wearable technologies including (if you already own this technology, great it will reduce the cost of participation):

Oura Ring to track sleep, recovery and activity

Muse EEG meditation device to support meditation practice

12 Months membership to Positive Prime Technology

Dashboard of your key data metrics via iAMconnected's integrative platform
Note: This is shared with your coach, to enable us to confidentially support and objectively monitor your progress over the 6 weeks
Coaching:

3 x 1 hour fortnightly 1:1 coaching calls so you can refine your understanding of your data and work through personalised interventions. 6 x 1 hour weekly group meditation training sessions.

6 x 1 hour weekly group content training sessions.
Support / Accountability:

Daily support from one of our highly skilled coaches via your DailyLog™ on the iAMconnected platform
Community: Connect with other members of the iAMconnected community
I have been working with iAMconnected for the last 6 months. I initially joined to help me improve my inner health and find my purpose for my next chapter.  I was gifted with so much more than this.  Through the exploration of my own bio-data, intensive program, and daily logging, I started to find the patterns beyond the triggers that needed work.  Supported by a Coach daily, I have unleashed energy, capacity, and awareness I never would have gained by figuring this out on my own or in such a short time frame.  I have gained tools that I will use for life and am ever so grateful for the major shifts experienced that are now helping me flourish beyond my expectations.
P
auline Fetaui – GM River City Labs and Startup Catalyst
Seeing all my Data clearly at one place, helpful advices and messages from Troy. He is great at helping others with small but powerful messages
– Eike
I am new at meditation so this program helped me to learn to be more consistent with meditation. It also introduced me to concepts like flow and several people like Wim Hof which I am following and reading up on.
– Kenneth
My sleep has improved a lot since starting the program. I'm not really sure why — I didn't change any of my sleep routines and I was pretty much already doing everything right in terms of sleep hygiene and maintaining my circadian rhythms. The only difference I can point to is the increased volume of mediation. While I was doing it I didn't notice an obvious cause and effect, but in looking back it becomes obvious…increasing the volume and quality of my meditation during the day had a profound positive impact on my sleep. Apart from sleep, I feel like the experience improved and deepened my meditation practice. I was exposed to a different way to meditate and it showed me that I can experiment and do things on my own instead of strictly following guided meditations. I haven't conquered my procrastination habit, but I feel like I have improved, as evidenced my by daily journaling. I also am less judgmental of myself and realize my "problem" probably isn't as bad as I thought.
– Mark
I enjoyed the learning I received as part of the group. The group dynamic was fantastic and Troy really made all participants feel valued. Thanks for offering such a complete experience. 
– Michele
I was drawn to join iAMconnectedd's 42 day program and have only words of praise for Troy after completing the 42 days. 
My 3 top takeaways were: 
The course/website/app was beautifully organised throughout, clear, well laid out and easy to use 

Troy blew me away with numerous videos, information and zoom calls with experts that were on offer as part of the class resources.

Troy provided gentle, heart centered encouragement while also providing accountability which can be essential to help bed in new habits and processes. 
 Thank you Troy for being who you are, love you heaps
– Alison
It helped me realize I was doing some things that negatively affected my sleep, like eating Chocolate at night, and that I just wasn't getting enough sleep. I found the sessions with Troy incredibly helpful to keep myself focused on my goals. He is incredibly supportive.
As part of the 6WC, here are some of the things we can measure and why. (Note: you may be recommended other areas to focus in on)
If you are someone who is constantly asking more of yourself, whether for health, business / career, relationships or to just be more of your potential, our team of experts can help you get you started, using Transformative Technologies to accelerate your transformation and overcome the hidden obstacles that are holding you back.
If you'd like to be part of our community of high performers, unlocking more of your potential, you can get started by:
Scheduling a call using the calendar below so we can meet with you to discuss if the 6WC is a good fit.

Alternatively, if you have any questions, email us at info@iamconnected.com